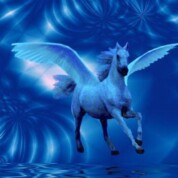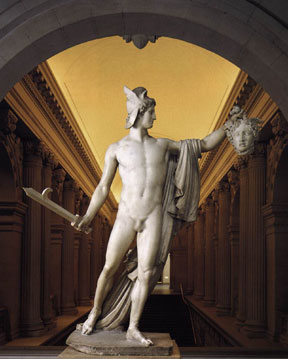 There are a few myths associated with Scorpio, some of them even involving scorpions!  However, the myth that I think epitomises Scorpio and the traits that they have, is that of Medusa, and her story.
The Mythology of Scorpio
Medusa was a beautiful young woman who helped in looking after the temple of Athena.  She had stunning long hair as well, and this combination of characteristics attracted the attention of the god, Poseidon, who decided that he must have her.
One night he came to the temple in disguise (some say as a horse) and took Medusa by force.  Unfortunately, Athena came along and was infuriated that her temple had been desecrated by people having sex there (she was, after all, the virgin goddess!).  She took her anger out on Medusa.  (Nothing happened to Poseidon of course, as he was a major god!)
She gave Medusa snakes to replace her long, beautiful hair, scaly skin, and made her look so horrific that she turned anyone who looked at her to stone.
Medusa was betrayed, both by Poseidon, who stood by and said nothing in her defense, and also by her goddess, Athena, who meted out excessive punishment for something that was not even Medusa's fault.  And added to that, she couldn't even tell anyone what had happened …. each time she tried, they turned to stone!
Meanwhile, off in another part of the kingdom, there was a king called Polydectes, who was coercing a woman called Danae to marry him.  She sent for her son, Perseus, to come and help her out.  Perseus asked what agreement they could come to about his mother.  Polydectes, being the devious and slightly nasty person that he was, asked Perseus to bring him the head of Medusa.  Naturally, he thought that Perseus would be turned to stone, and out of his hair forever!
Perseus accepted the challenge, and was standing in front of Medusa's cave wondering what to do when Athena came to help him.  She gave him a highly polished bronze shield.  She told Perseus that he would be able to turn Medusa's gaze back on herself – she would be killed by the reflection of her own gaze.
Perseus entered the cave and Athena's scheme worked like clockwork.  Medusa was dead at Perseus' feet, so he beheaded her in order to take the head back to Polydectes.  At that moment, Medusa gave birth to Pegasus, the flying horse who came as a result of her union with Poseidon.  She couldn't give birth prior to that because she was in an angry, stuck state.
Medusa's decapitation became her freedom – she became free from the body she was trapped in, and the mindset that had affected her for so long.
Perseus toook Medusa's head back to Polydectes and threw it at him – when Polydectes saw the head, he turned to stone – all that pent up anger and frustration that Medusa had stored up, drove out at Polydectes and killed him, even though Medusa was already dead.  Danae was also free from a fate she didn't want to contemplate.
What does this mean to a scorpio?
Scorpio's have that dark, penetrating gaze, sometimes referred to as a 'death stare', which I bet we've all seen at some stage.  They also tend to have deepset and dark eyes, all of which reflect that connection with Medusa.
Scorpio people will have, deep within their psyche, a sense of injustice, of being treated unfairly.  Injustices are very scorpionic, and come from that terrible treatment that Medusa endured.  It's not surprising that they should have the attitude of  'This is unfair', or 'Why me?'.
Have you ever noticed how a Scorpio will hold their cards very close to their chest and not speak easily about things?  I guess it's something to do with everyone turning to stone when Medusa tried to express herself, and the feeling that it is pointless to talk about inner thoughts in case no-one listens, or something terrible happens.
Other elements from the story can help the Scorpio to move through issues they may have.  They can use a mirror (metaphorical of course) to reflect and look objectively at situations, to help them get past feelings of anger, vindictiveness and resentment at the times they feel they've been treated unjustly.
Pegasus is the symbol of being able to reach above all the injustice and the feelings associated with it.  It is the freedom that can be obtained by letting go of the anger and frustration and moving forward.  Use the energy of Pegasus to improve your life!
Check out the mythology of Libra, Leo, Capricorn, Gemini, Aries, Aquarius, Taurus and Sagittarius.