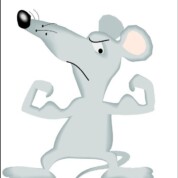 Our twitter followers would have seen brief details of a recently discovered hormone called irisin, so I have decided to focus this blog on explaining about the importance of this hormone in more detail.
Firstly, it is important to just generally understand the concept of hormones in the body.  We probably get a little too used to thinking of 'hormones' as being related to sex – as in 'rampant teenage hormones' etc.  In fact, hormones are one of the major control mechanisms that perform a whole range of processes in the body – including, but not exclusive to, those related to sexual activity.
The discovery of irisin is perhaps more useful in helping us to understand why it is that regular exercise can have such an impact on our health.  For many years we have been told that this is the case – now we know why!
Dr Bruce Spiegelman (professor of cell biology and medicine at Harvard Medical School) and his team identified and named irisin (after Iris the Greek messenger goddess) after finding it in mice and humans.  Dr. Spiegelman and his team were able to prove that this hormone converted white fat cells into brown fat cells.  White fat is the fat that increases waist size and pads internal organs – it is seen as being 'bad' fat.  Brown fat generates body heat by burning fat.  Having more brown fat in your body increases the amount of calories your body burns.
The study found that exercise had an impact on the release of a particular protein which ultimately resulted in the production of the hormone.  The really interesting aspect to the hormone was that while exercise stimulated its production, this effect also continued for a long period after exercise had finished.  The study found that people who were put through a 10 week programme of endurance exercise training had more than double the level of irisin in the blood than with people who had not gone through this same exercise regime.
Another positive that came out of the study was that along with the increase in brown fat cells, irisn also seems to prevent or overcome cellular changes that lead to the development of type II diabetes.  This perhaps goes some of the way to explaining how an increase in exercise can take someone with this type of diabetes into 'remission'.
There were also interesting results in mice when the irisin was injected into ones that were obese and pre-diabetic.
The message for me from this research is that there is now very clear 'proof' about some of the things that exercise does in the body.  I think I would rather try to develop more of this irisin naturally now – rather than needing to take it as a pill later on.  Must be time for a nice, vigorous walk!